Hey Bunnies, So I told you I would review the February Petit Vour box, and then life happened and I have been terrrrribbbble at time management so it's a little late but here it goes! I tried a new camera to film a video for ya'll but the lighting and sound quality was terrible so I deleted the video and returned the camera and now I am just gonna ol' fashioned blog for ya...
Once again the February Petit Vour box delivered 4 new Vegan and Cruelty Free products to try,I have since tried all and I love some, and are kinda iffy on others.. So I hope sharing my personal reviews of these products helps inform you if you were maybe thinking of getting any and/or subbing to Petit Vour. To do so you can go Here
Anywho here is the loot:
The first Item I am going to talk about is the Hair Smoothie (cleansing conditioner and detangler) by Graydon..
When I first opened the box and found this I was reaaaallly excited, I love multi-purpose products because I am striving to have less waste and also be more of a minimalist in areas of my life and if I could find a 3 in one does all hair product for the shower that is vegan and cruelty-free with natural/healthy ingredients it would totally be holy grail potential, however this shampoo did not so nice things to my hair and I literally had to wear my hair in 2 side buns to hide the greasy/heavy/yucky after math of using this stuff..
I have a tricky scalp.. it's itchy/oily/ sometimes dry and flakey, sometimes I swear I have cradle cap but that's a whole other story.. however it's kinda a challenge to find a product that plays nicely with my hair and scalp.. I get greasy hair so easily, all I have to do is wear my hair up and then let it down and my hair is greasy, or the ends are fried and frizzled and yea.. my hair is not my favorite feature..
this stuff smells amazing, it smells like sage and thyme and rosemary and all nice herbs and plants that kinda awaken your senses and calm you... I remember drying herbs and filling wine bottles with olive oil and vinegar and dry herbs and selling them for a fundraiser at my elementary school growing up and this sorta brought me back to that simpler time through aromatics.. however the formula was just too heavy for my liking, maybe I used too much or maybe I am just more into clarifying shampoos/conditioners but this product did not bode well with my dooo. So sadly not a product for me.
second on the list is this tiny vial of Christy Organics perfume in "trance":
Speaking of time travel aromatics.. (something I may have just made up) this stuff brings me back to my childhood.. My mother was kinda a free spirit/hippie (Hmmm who does that sound like?) and she used to burn all kinds of herbs and incense around the house and she used to make these little clay men and put incense in their mouths like pipes and light them.. and some weekends we would walk down to the seaside bazaar and buy locally made handcrafted soaps and lotions and bath beads.. anyone remember bath beads??? I had some shaped like dolphins!! But anyway if I could describe this scent that's how I would describe it.. with my childhood.. Earthy, sweet, natural, wonderful.. and the ingredients are safe and can't be beat.. so I am definitely going to purchase the full size of this bad boy..
The third Item I received is this Juice Beauty stem cellular booster serum:
When I received this to be honest I wasn't too excited, I have received another product of Juice Beauty's in an Ipsy bag awhile back (before I unsubbed and became CF) and I wasn't too impressed with it, but alas I wanted to give this thing a chance so after washing my face I applied it and yea.... meh...
I am only 27 and Perhaps an anti-aging facial product is just not something in the cards for me just yet?? I am not the right demographic??? I am not sure, but this stuff just made my skin incredibly dry and tight, and the result of that was it got angry and produced more oil and now I am breaking out (yayy combination skin... NOT!) Definitely not the product and dare I say Brand for me... at least for their facial care stuff.. do they have makeup?? I must look into this.. anyway... moving on
last but not least was the product I was most excited about.. OOH big shock it's MAKEUP.. and that was the Hans Skincare and cosmetic Eyeshadow in Taupey Plum:
This color is gorgeous!! I was seriously ear to ear when I opened this and started playing with it.. it's a gorgeous very pigmented and buttery soft taupey plum color (appropriately named) it has sheen but can also work with any matte eye looks you're working with (*trick.. I found when used with a primer the color looks more matte whereas without a primer it's shimmery.. see below swatches) and it's the perfect anytime/any event/any skin color..color. It is just perfection, I think I have applied this to my eyes in almost every look since I received it.
Here are some swatches with and without flash.. the top swatch is without a primer and the bottom swatch is using the Gabriel Cosmetics eye primer in Neutral :)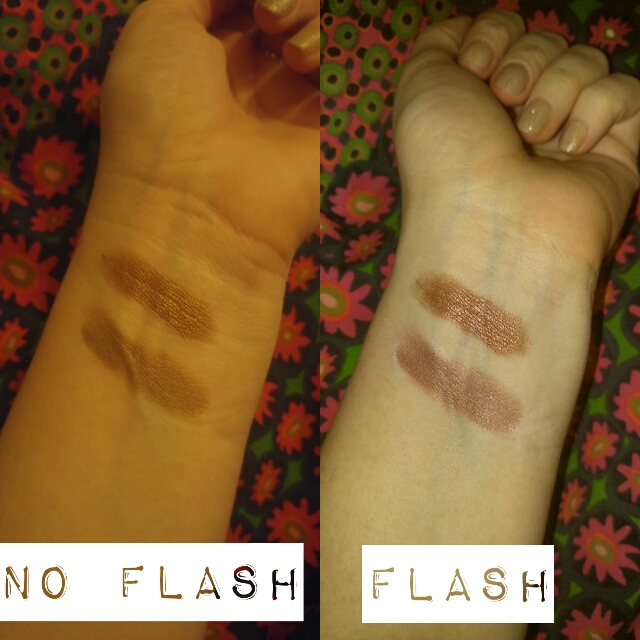 isn't it gorgeous??
And of Course the Petit Vour Box would not be complete without a beautiful collaborative art piece by Mia Charro.. I have all my Mia Charro art cards from Petit Vour above my makeup station decorating the wall.. I am obsessed.. this month's was very Valentines-y which is cute, Since I personally LOVE Valentines day...
anywho I hope you enjoyed reading and even learning a little about my childhood.. Thanks for stopping by. Please follow my Instagram
XOXO