Ok Guys, I am talking about a company today that I have been very passionate about for a long time today and I am so excited to share them with you. They are Called Badger Balm and this quirkily-named company has a ton to boast about.
A little while ago I reached out to their Social Media Manager; Jentri to express my interest in having a feature of their company on my website and She even sent me a couple new products to try and has been so amazing to collaborate with.. Such a pleasure to work alongside, quick to answer any questions I had and just a friendly spirit all around.. and let me just say.. the more I have found out about this company.. the more I stand by them.
DISCLAIMER: For my stricter Vegan followers, technically this company is not considered vegan because they use beeswax in most of their products but before you exit out of this blog entry in a fury, I am here to say that their practices of obtaining beeswax are both incredibly ethical and sustainable.. and I am actually proud to use them
Just read their "WHO WE ARE" section on their Website to see what I mean.
"We only use ingredients that fit our rigorous natural standards for healthy agriculture, minimal processing, sustainable supply chain, and health giving properties"
So if you are a green-lifestyle/ homeopathic/ ecological enthusiast.. read on because I am about to blow your mind with this amazing company.
But First...Let's take a little trip down memory lane shall we??... I first heard of Badger balm back in 09 when I was pregnant with my daughter... My birth coach and friend brought me this adorable little care package when I was going into labor.. which included snacks, a stuffed cat that rattled (Cats comfort me) and some Badger Balm Stress relieving balm...
The circumstances surrounding my pregnancy were very stressful, and without going into the gruesome details I will just let you know that I was 21, a sophomore in college in a town hundreds of miles away from my family and I was about to become a single mom, so there was much to stress about to say the least... And being someone that already suffers from anxiety and depression, this could have really effected the length and difficulty of my labor... but my girl Suz thought of everything and and she rubbed this strange calming balm on my temples (coupled with prayer) I literally felt my worries melt away...
I used every square dollop of that balm until that tin was empty.. it helped me through the "4th trimester" of my daughter in her newborn stage, the terrible twos (and threes) and on.. and when I became pregnant with my son in 2012 I went on the search for that balm again.. and found that Badger Balm had MANY other amazing aromatherapy products and remedies for just about anything...
They have everything from Foot and hand healing balm, to sunscreen and lip balm and just check out what they have to say about their ingredients:
"We are a USDA Certified Organic company and most of our products contain 100% Certified Organic ingredients. Organic ingredients means healthy air, healthy water, healthy earth, and healthy people. Our ingredients are ecologically harvested, wild-crafted, and/or fairly traded. Our ingredients are 100% natural. By this we mean that they come directly from nature and are not chemically processed or extracted. Our only exceptions are the minerals in our tints and sunscreens, which are processed for purity and safety.
We consistently evaluate the sustainability of all ingredients and we regularly review each of our suppliers' practices. We use Fair Trade Certified cocoa butter and other ethically sourced ingredients whenever possible."
So Who are these people and why is this company called "Badger Balm" are their products made of Badger?? GASP NOOOOO.. Badger Balm is a Family owned company.. founded by Bill Whyte (Badger Bill) who runs the show along with his wife and 2 grown daughters who also have important roles within the company.
So Why is Badger Balm Called just that?? "Badger Balm"..?
Here let Badger Bill explain:
...
What a Fun and down to earth/friendly company this is... Makes me wish I was also part of the badger family...
Ok Now for the Beesnus.. (Bees+business in case nobody understands my weird combo words)
An Excerpt from Badger Balm's Social and Environmental Statement on their website:
"Badger Bill has become a major advocate for the health and well-being of honeybees and their beekeepers who have been particularly hard hit by the recent Colony Collapse Disorder. Bill gives lectures on healthy beekeeping and has designed an innovative new beehive that involves a new model of beekeeping."
When I first became a Vegan I was strictly anti-beeswax.. I was the extremist Vegan I could be.. I threw away all my makeup that contained beeswax and even bought and then quickly returned some makeup from RMS Beauty because it contained beeswax.. I unsubscribed from a beauty subscription service as well that advertised as vegan and yet contained beeswax and when I asked why they were "mis-advertising" they replied that the wax was ethically harvested but at this point I was just peeved and naive and therefore unsubscribed...
But Badger Balm is near and dear to my heart and I did not want to believe the worst of them without asking some questions so I took it upon myself to ask Jentri (the PR and Social manager herself) Some Questions... here's how the dialogue went:
(I am in Bold, She is in Italics)
Badger Balm products all seem to contain beeswax. Is it ethically harvested? What is the practice used to obtain the beeswax?
Hi Erin, Yes, our beeswax is ethically harvested. It comes from Australia and is certified organic – the bees are not treated, and they are not bred for wax production. There is a certain point in the hive cycle that honeycomb is no longer needed, and that is when it is harvested without disruption to the hive or the bees.
It does! At least it eases my vegan conscience. I would hate to think bees were harmed they are crucial for a healthy planet. Thanks for the quick response!
No problem! We love bees – Badger Bill, myself, and many other people here on staff keep bees as well, and we're very sensitive to their needs! Badger Bill and I both use top bar hives, which allow bees to live as they would in the wild, and encourages swarms to help repopulate the bees. Wish we could use our own beeswax, but in order to certify the wax organic there needs to be a 50 mile radius (because bees will travel up to that distance) of certified organic flowers for them to feed on. In Australia, where there's lots of unpopulated land, that's a little easier. Here in NH I'd have to convince all of my neighbors (and their neighbors, etc) to go 100% organic…. Long story short: we have much respect for the bees, and would never - NEVER – buy from a supplier that practices "factory" techniques. :)
---
So There you have it. Ease your mind?? It does MINE.. and soo much good information there to take with me further down the beauty line..
---
Now some reviews on the products she sent me... She asked what sort of products I would be interested in initially and I told her something to help calm my son at night and ease his sleeping, and some kind of bug repellant because I would be camping this Summer, and finally some lip balm.. because I love lip balm.
Boy did she hear me.. here is what she sent me:
---
Night Night Balm .75oz tin; RV: $5.99
What they Say:
A formula specifically designed with children in mind, featuring Chamomile and Lavender – essential oils traditionally used to calm and relax. Great for pre-sleep massage – the scent surrounds and relaxes, helping the child to unwind naturally after a busy day of learning and growing.
Absolutely, positively NO chemicals, synthetics, "fragrance", parabens, GMOs, or any other bad stuff.
The Sweet Dream Balm for Kids. Night-Night Balm is a natural Sleep Balm specifically designed with children in mind, to help ease younger minds into the magical realm of the sleep world. For this special kid-friendly formula, we chose essential oils that are known to be especially beneficial for children, helping them unwind naturally after a busy day of learning and growing. Chamomile helps children to be calm and unwind from nighttime activities. Lavender helps children to relax and feel soothed, while Sandalwood instills a feeling of reverence. A safe and natural sleep aid for children (and it works for moms and dads, too)! The perfect addition to any bedtime ritual.
What I Say:
I have suffered with Insomnia for some years now and have been using their adult "Sleep Balm" to calm my nerves and bring me restfulness for a little over a year now.. but I was curious as to how effective their more child-friendly formula was and if it would work on my cranky almost 3 year old whom we have recently weaned off the "Sasser" (Pacifier).. I immediately put this stuff to use one particular night when my son thought 4 a.m was a decent hour to start the day.... I rubbed some on his temples and chest and what started out as a wailing cranky baby quickly turned into a more calm and willing child to return to the land of slumber.. I don't know if this was the biggest factor in his return to sleepyland but I am not going to discount it as a coincidence either...
---
Tea Tree and Lemon Balm Herbal lip Care; Rv: $2.99
What They Say:
USDA Certified Organic & 100% natural. Protect your lips from the elements with emollient-rich herbal care balms brimming with nourishing ingredients!
100% Natural and Certified Organic.
Emollient-rich balm soothes and protects against the elements.
Tea tree and lemon balm provide incredible herbal support.
Peppermint and menthol crystals cool and refresh with a tingle.
Organic beeswax and extra virgin olive oil naturally seal in moisture.
Guards against dryness and cracking.
Light texture and a smooth glide.
No parabens, GMOs, or harsh chemicals.
"Tea Tree and Lemon Balm Herbal Lip Care in a .15oz stick delivers soothing relief and protects lips against the elements. Tea tree and lemon balm provide incredible herbal support. Organic extra virgin olive oil and beeswax naturally seal in moisture. Peppermint and menthol crystals create a pleasant cooling sensation, like the refreshing tingle of winter's frosty air. Refreshing and soothing on sore, chapped lips. No parabens, GMOs, harsh chemicals or anything unhealthy—ever! Rich in vitamin E, enzymes, fatty acids, and antioxidants, our organic extra virgin olive oil is good enough to eat – and we do! It's also readily absorbed by the skin and provides an ideal emollient base ingredient for our lip balms sticks. Badger olive oil comes from southern Spain, and a favorite of Michelin Star chefs in Europe, as well as our kitchen in Gilsum, New Hampshire."
What I Say:
What is their possibly left to say? Man this company puts heart and integrity into everything they do... I just love how all the great information you would need on a product from it's ingredients to it's sustainability are all right there!!! Well... I guess I will say that everything they said this lip balm would be is completely true.. I love the tingle and the mint flavor... and my lips feel so nourished and hydrated.. can't wait to have this in tow for my camping trips..
---
Anti-Bug Balm .6oz; Rv: $5.99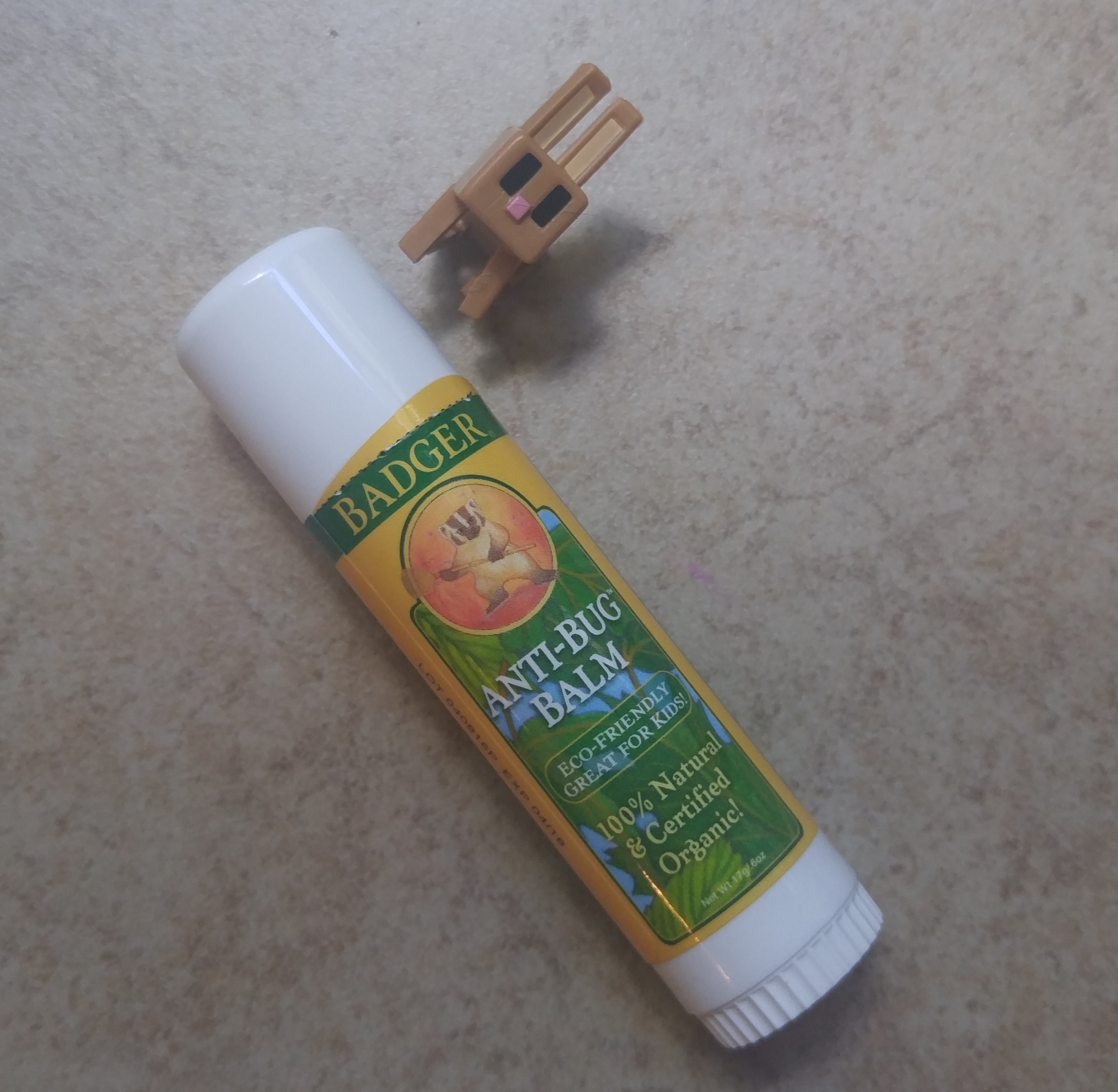 What They Say:
USDA Certified Organic - All Natural Mosquito Repellent
Certified Organic and 100% natural DEET-free bug repellent.
New travel size stick for on-the-go spot protection.
Independently lab tested to repel mosquitoes and stable flies.
Smells great and works great!
Perfect for use on wrists, ankles, and behind the ears—places mosquitoes love to bite
Great for use by the whole family.
All Badger balms are certified organic and petrolatum-free. "Good for the Skin. Bad for the Bug. ® Certified organic and all natural DEET-free bug and mosquito repellent in two sizes of easy-to-apply sticks. The very same product as our popular Anti-Bug Balm in tins, organic and all-natural citronella, cedar, and lemongrass, essential oils naturally repel biting insects. A base of organic extra virgin olive and castor oil soothes and softens skin. Smells great and works great; you won't find DEET, petrolatum, or any other chemicals. Perfect for use on your wrists, ankles, and behind the ears—places mosquitoes love to bite. Great for use by the whole family!"
What I Say:
Hello effectiveness.. I am ashamed to admit this but my indoor cats somehow mysteriously got a crazy case of fleas this year... everywhere we walked in the house 10 fleas would jump on our feat and start eating away at our ankles and toes.... it was terrible.. I received this gift from Jentri and Badger Balm right in the middle of this and decided to do a foot comparison to test for effectiveness.. I Applied the balm to my right foot and not my left and walked to a place in the house where I knew a lot of fleas liked to congregate (I have since gotten the flea problem under control for those concerned) and I kid you NOT my right foot was unscathed.. this stuff is seriously effective.. I am going to bring this and go purchase their other bug repellants for our camping trip.. My in-laws are convinced you cannot effectively repell bugs without DEET in your bugspray and laughed in my face when I said I only use Deet-free natural repellants.. but thanks to Badger Balm I am going to be the one laughing.. when I am bite free and not poisoned by toxic chemicals in the process.. Super stoked on this product.
---
Well my sweet bunnies I know that was a lot to take in.. I appreciate it if you read it all.. leave a comment about any products you'd be interested in trying or have tried and recommend.. I want to expand my Badger Balm Collection... I especially have been swooning over their damascus rose collection. have any of you tried any of it?? What did you think??
Don't forget to follow me on [Instagram](instagram.com/erindoesbeauty] and subscribe to my newsletter down below
XOXO