It's that blessed time again, the time where I receive my monthly Vegan Cuts Beauty Box.. It's like Christmas Every Month.. OBSESSED. Also some awesome sales going on in their Marketplace Trust me you don't want to miss them if you love all things Vegan.. which let's be honest.. Why wouldn't you??
Ok so on to this month's BOX.. check out these beauties:
this month's box is over $60 worth of product for as low as $20 with free shipping! can you say Score?!?! You have until the end of the month to get yours still so grab yours right meow!
Here's what I got:
---
Everclen Fragrance-Free Hydrating Facial Toner: Rv; $15
What They Say:
Vegan Cuts: "for sensitive skin that will keep you feeling fresh and radiant"
on their website: "everclēn® toner provides instant hydration to nourish and condition your complexion any time of day when skin feels thirsty. Use this gentle toner after cleansing skin to invigorate and refresh, or as a base before moisturizing, for a healthy radiance that is naturally yours."
What I Say:
This stuff is seriously refreshing, I love that it has no fragrance and I consider myself to have pretty sensitive skin so having a toner without harsh alcohols or chemicals is definitely a plus in my book.. I felt this really cleaned my skin .. giving that extra strip of the day after my cleansing but without stripping my skin of it's integrity... Definitely makes this box worth it alone! and full size too.. SCORE! Just wish they had an instagram so I could brag about them more there.. LOL
---
Terre Mere Cosmetics makeup Brush: Rv; $34
(woops actually used this before I could even get a picture.. I was that excited about it.. sooo not the "cleanest" shot but oh well)
What They Say:
Vegan Cuts: "Sleek, professional brust to bring out your natural glow and conquer your contouring"
Their Website: "The Professional Design Of Our Ergonomic Blush Brush Allows You To Gently Contour And Highlight Your Features With A Soft Natural Glow. 100% Synthetic Hair."
What I Say:
Ok, Obviously based on the above photograph you can tell I already have given this brush much love, immediately when I took it out of the box it was so incredibly soft I couldn't wait to put it against my face.. and I used the nearest product I had near me which was the bronzer that also came in this month's box.. this thing is seriously one of the softest synthetic brushes I have ever touched.. it's like a scientist was able to manufacture synthetic chinchilla fur or something.. seriously sooooo soft... and the angle makes it great for applying blush or bronzer or even highlight (although I personally prefer a fan brush for highlight) either way this brush is $14 more than the whole box alone... so that says something right there.. DOUBLE SCORE!
---
The Granola Goat Amazing Face Serum: Sample Bottle Rv; $4
What They Say:
Vegan Cuts: "Unique face serum of red raspberry seed oil and se buckthorn berry oil create a nourishing blend for the skin"
The Granola Goat:
"The Amazing Face Serum is made up of serious skin super foods! Because your skin is an incredible vessel for transporting substances, you should feel good about what you're using. This serum is pure and uncomplicated with no fillers or preservatives. Your skin will be noticeably radiant after just a few days use.
The red raspberry seed oil we choose is cold pressed and contains one of the highest phytosterols contents of any vegetable or fruit oil, making it excellent at preventing photo damage. It has amazing anti-inflammatory effects and has an SPF as high as 28-50.
Our choice of sea buckthorn berry oil is also cold pressed and USDA Certified Organic. This oil is a sustainable, plant based source for omega fatty acids 3,6, and 9 as well as the rare omega 7. Sea buckthorn is also an antioxidant super star with many vitamins and minerals.
Frankincense, helichrysum, lavender, myrrh, rose, and sandalwood essential oils add an extra layer of nourishment to this face loving concoction.
To use, apply 1 to 3 pumps of serum to clean hands and gently massage into clean skin (if using toner, apply toner first). Can be used as a night treatment, but this serum also performs beautifully under makeup."
What I Say:
Nothing Beats a good facial oil.. seriously.. nothing.. I was raised my whole life to believe oil was the burden of all skin types, it was taboo to buy anything that wasn't "Oil Free" and more and more I am finding that oils have so many healthy skin benefits.. (depending on which ones) different oils work differently on different skin types but their are some blanket oil combinations that just work good with all skin types and I kinda am taking a risk for saying this but this may be one!!!
I love experiencing new oil combinations and exploring them to see how my skin reacts with them... My skin drinks this stuff up, it's like 90% fragrance free with a very subtle scent to it that will not overwhelm anyone, I can't place it but it's clean and slightly earthy.. soo mild it's really hard to say for a fact what it is but don't let a very subtle scent deter you from this if scented things are a problem for you...
I apply this as my last step of my skincare routine, after I wash and tone I apply a few drops of this to my palm and in circular motions rub it all over my face.. my skin is refreshed, rejuvenated and in the morning after I put it on before bed time is more glowing and pleasant.. definitely going to invest in the full sized bottle!
---
Medusa's Makeup Bronzer in "Sunkissed" : Rv; $12
What They Say:
Vegan Cuts: "special Surprise of either bold blush, striking lipgloss or warm bronzer"
(Obviously I got the warm bronzer)
Medusa's Makeup: "Cruelty free, Made in USA VEGAN 10 grams net wt.
Ingredients: TALC, MICA, MINERAL OIL, MAGNESIUM STEARATE, CALCIUM
STARCH OCTENYLSUCCINATE, KAOLIN, POLYISOBUTENE,
ETHYLHEXYL PALMITATE, PETROLATUM SORBITAN
SESQUIOLEATE, METHYLPARABEN PROPYLPARABEN,
BHT, PIGMENT.
May Contain: MICA, TITANIUM DIOXIDE, IRON OXIDES,
D&C RED NO.6, D&C RED NO.7, D&C RED NO.21,
D&C RED NO.27, FD&C BLUE NO.1,
FD&C YELLOW NO.5"
What I Say: Ok first things first check out this Packaging!!!!! LOOOVE IT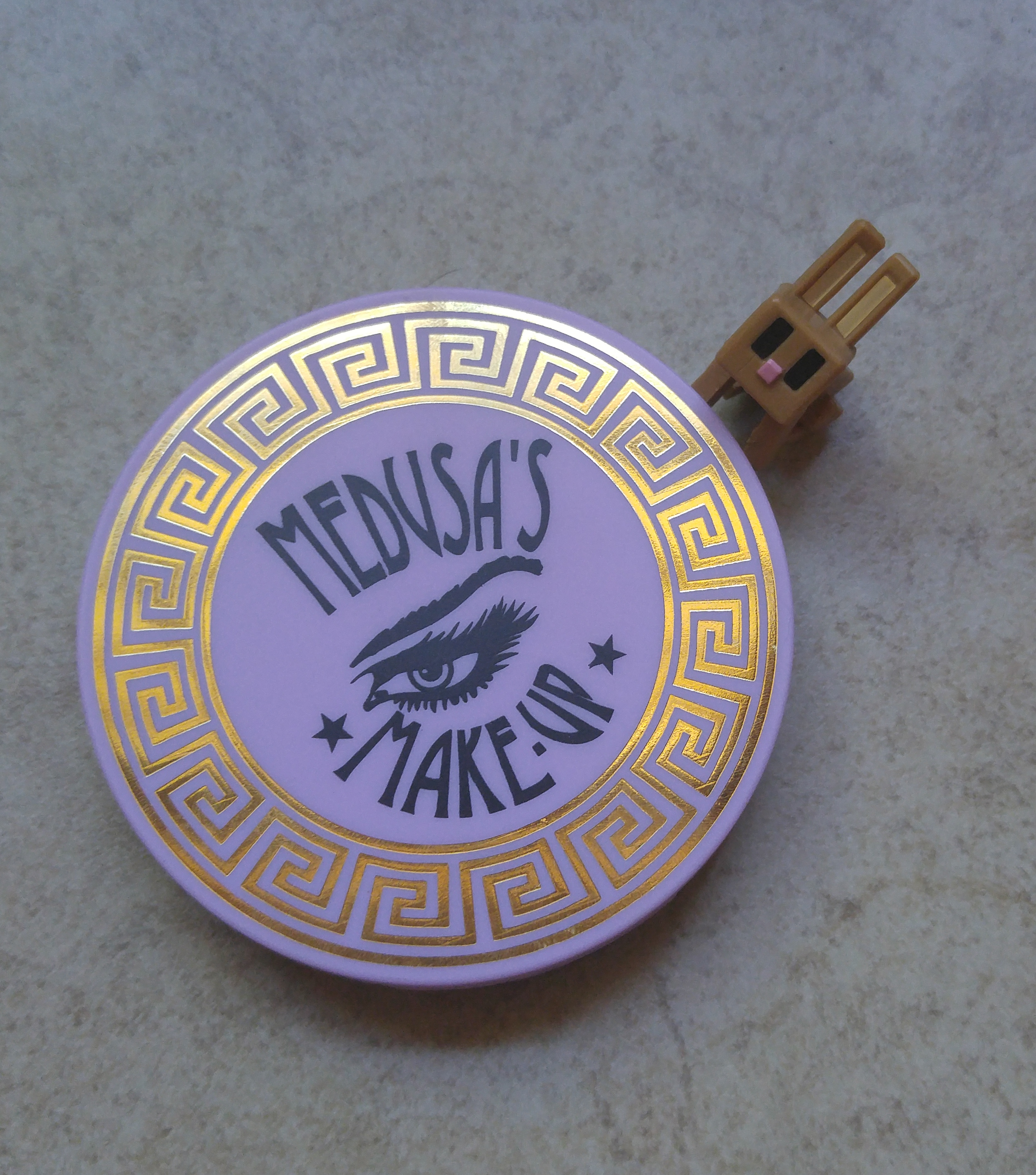 The color is very subtle and warm... the ingredients leave much to be desired.... *Talc YUCK.. but the formula is nice and shimmery and glides on well.. and technically it's cruelty-free and vegan so can't go wrong there...
here's a swatch I did.. to show how warm and subtle it is:
could be a little bolder or even bronzier.. it's a little too orange for my pink undertoned pale skin.. but I have been able to accomplish some cute looks with it so overall I am pleased.. and it's full size which is always a thumbs up in my book.
---
Molly Rose Balms Exfoliating Body Scrub in Basil Grapefruit (sample): Rv; $2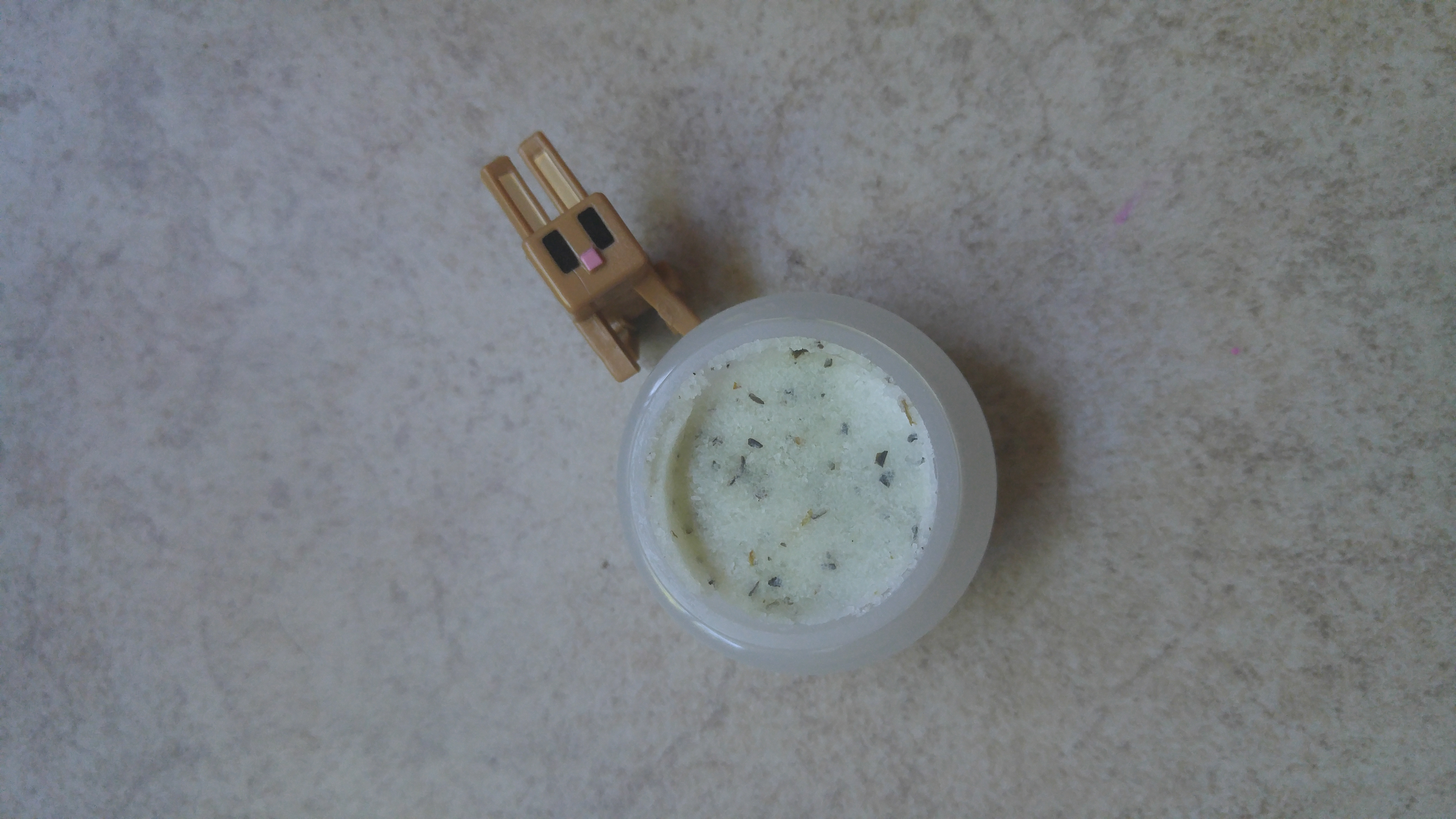 What They Say:
Vegan Cuts: "Exfoliating body scrub with and earthy basil and zesty grapefruit combo for that squeaky clean feeling"
Molly Rose Balms: Zesty grapefruit and earthy basil leave skin feeling cool and refreshed.
To use: Dial scrub just above the lip of the tube, Gently scrub areas of dry, clean skin that need intense exfoliation. Rinse with lukewarm water and pat dry. Follow with your choice of Molly Rose Body Balm.
Ingredients: Californian sea salt, plant derived wax (cetearyl alcohol from coconuts), jojoba oil, essential oil blend (white grapefruit, peppermint, basil), sea buckthorn oil, basil.
100% Vegan & Organic.
What I Say:
I have never been too into exfoliating ever since my youth when exfoliating scrubs claimed to give clear skin but only made me break out that much more... but I have come to realize there are many benefits of scrubbing if one does it the right way and with scrubs that have quality ingredients.... I am slowly integrating scrubs into my routine and the scent of this one is divine.. never would have imagined combining the scents of grapefruit and basil together.. both separately smell amazing so it does make sense that together they would form an earthy yet ethereal aroma.. I am going to use this to exfoliate my hands before my next mani.. and possibly do some shower exfoliation as well.
---
Well there you have it! another Month of amazing vegan cruelty-free beauty products delivered to my doorstep.. for only a fraction of a cost of the contents...
Definitely my favorite subscription box.. will it be yours too?? Subscribe Here To start this amazing journey today.
Don't forget to follow my Instagram
Love you Bunnies!
XOXO