What if you knew you could purchase from a cosmetic company that could honestly lay these kinds of claims?:
Hand selected, safe ingredients
No petroleum, no animal bits, no gluten, dairy, corn, harsh chemicals or GMOs
Ingredients that effectively improve the health of your lip skin, like high quality Vitamin E
Effective, old school, manufacturing processes - the kind BEFORE chemicals were introduced
Small batches keep things fresh
Stringent storage and handling procedures
A special gluten free Vitamin E zaps chapped and dry lips, making them a memory...
Each hand pressed, mineral eye shadow is designed specifically for the most sensitive eyes, yet with awesome color payoff
Well guess what??.. it's not a thing of fiction.. There is such a company and it's called Red Apple Girls!!

I first heard of Red Apple Girls here and there amongst other cruelty-free and Vegan beauty gurus and couldn't really see what all the fuss was about.. That was until I received their lipstick in the shade "Gypsy Soul" in my Benevolent Beauty Box..
First thing first I noticed was how much their packaging "SLAYED" to use lay men's terms..

It's seriously "on point" I don't what it is about holding this lipstick in my hand but it feels like it's my secret weapon to conquer all my dreams.. like me and this lipstick can take on whatever the world has to dish at us..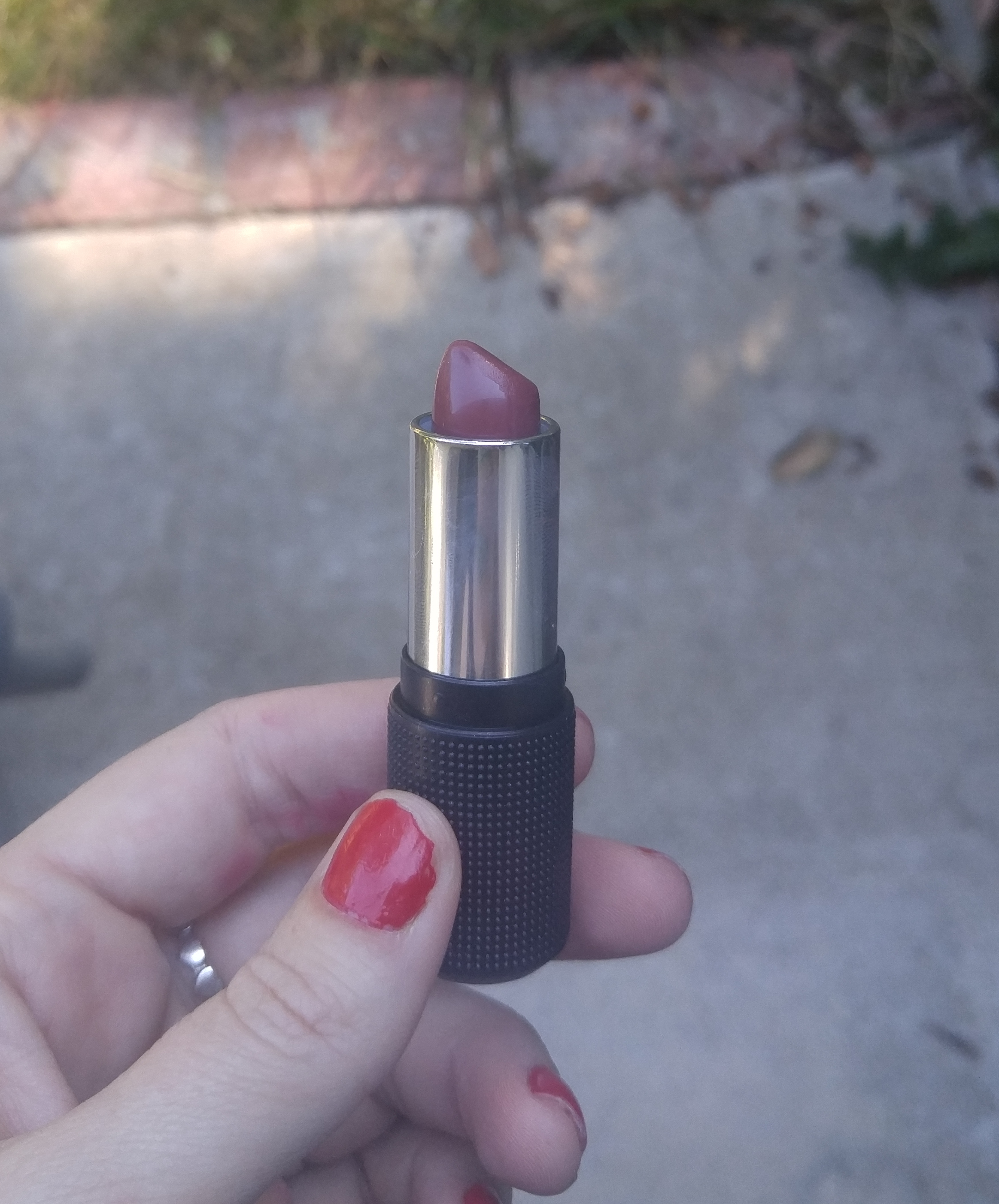 It was seriously love at first hold and then....application.
Speaking of which,
This stuff spreads like (vegan) butter, it's so moisturizing and smooth, and the color pay off is amazing. It isn't SUPER long lasting because it doesn't dry on your lips like the paints we call "liquid lipsticks" of today.. but it hangs in there pretty well..
I pretty much had to subscribe to their newsletter and almost immediately I started to receive e-mails from their founder "Jay" and from there slowly started to unwrap this Amazing company.. and what it stands for...
First off.. main Criteria for a Cosmetic company to strike my interest would of course be:
that it's Cruelty-Free...

that it's Vegan

that it's ecologically conscious/Sustainable

That the Ingredients would be quality...Healthy and Organic/Natural good for you..etc
ETC
ETC
Mix the above criteria together and you come up with Red Apple Girls and their amazing line of lipsticks/lipglosses and now Eye shadows!!
Check out this sweet infographic of the toxins found most commonly in cosmetics and you will understand to a point the lengths Red Apple Girls goes to to avoid such ingredients in their products (and inform consumers of what they should be looking to avoid as well):

What's more?? They are Gluten-Free!
You read that right..
GLUTEN FREE
IN fact they pride themselves on this fact.. and hey? why not! So many people each year are finding out that they have gluten-intolerance and/or Celiac's and such intolerance goes beyond just what food these people eat.. they literally cannot accidentally even mildly ingest gluten so that would include lipsticks that contained gluten (you following?) Well now because of conscientious companies such as Red Apple Girls, people who are afflicted with such things can now feel glam and beautiful like the rest of us without risk of ingestion.. and to someone who doesn't know the struggle of this,
This may seem like "meh who cares?!"
but it's HUGE! What an incredible forward thinking company, with a great philanthropy and even greater amount of integrity!
I recently reached out to them to test some more of their shades.. The sweet gal I contacted let me choose 5 shades I would love to try..
I chose these colors:
Hibiscus
Red 101
Berry Blast
Petal Pusher
Mayberry
They Came in this adorable little draw string bag with a plastic lip brush.
and I also got a sample of their amazing lip balm: (Seriously this stuff is amazeballs)
Here's what they looked like swatched:
On lips:
and
on arms:
Keep in mind that these colors are like a moisturizing lip butter consistency so they are entirely buildable.. for example see how muted the Red color is above versus on my lips in this picture:
Red Apple Girls had claimed to be on a mission for awhile to create "the perfect red" and really believe they have in the shade seen above.. it is seriously super flattering (I would assume) on all skin tones and the gold bits of subtle glitter in it make it that much more fun! Seriously need to grab myself a stick of this..
My favorite shades were the red and the pink; Petal Pusher! Such a fun barbie/bubblegum pink color.. different than many I own..
If you want to grab some for yourself these bad boys go for: $23.50 a shade and their eye shadows which also boast gluten-free claims and are also apparently very pigmented retail at : $18.75 a pot and you have the option to create your own pallete with their magnetic Z palletes as well..
These do run steeper in price than I can afford at the moment.. #thestruggleisreal but I do believe these are worth pinching your pennies for.. so check them out!! And if you're feeling generous by me a shade or 2.. JK JK..
But Really.
anyone love you bunnies. Stay tuned and make sure you follow me on Instagram to stay up to speed on blog posts and reviews and looks and all around quirkiness...
also if you liked this entry please subscribe to my newsletter by entering your email at the bottom of my webpage.
Til next time
XOXO