"Our soaps, renowned for their quality, versatility and eco-friendliness, enjoyed a small but loyal following in the early years. In the late 1960s, however, soap sales started to explode, due to the unsurpassed ecological quality combined with Emanuel Bronner's urgent message to realize our transcendent unity across religious and ethnic divides." - an excerpt from the "Legacy" statement on The Dr. Bronner's website.
I first heard of Dr. Bronner's when I was pregnant with my son Julian, I was looking for greener/ healthier cleaning products for every day living and I started pinboard on pinterest where I was turned onto Dr. Bronner's and the Versatility of their Castile Soap..
Now back then things being Vegan and Cruelty-free were not on my radar, I was just looking for "cleaner" and "greener" products... which as we all know evolved over time...
In a Serendipitous happening, I ended up in a mom's group in my (new) home town. The Leader of the group at the Time.. a gal named Lisa introduced all of us new mom's with a welcome gift of Dr. Bronner's soaps/ lotions/ baby balm and chapstick... and had us share our birth stories with the group...
I followed in suit behind another gal named Erin, who also gave birth to a baby boy the same day as me..
What I didn't know at the time was that Lisa's Maiden name was Bronner and her sister-in-law (Married to the [Now] President of Dr. Bronner's) Was the gal who had her baby the same day as me..
I had just accidentally befriended the Bronner Clan.
Lisa (nee. Bronner) on the right, Michael Bronner (President of Dr. Bronner's) on the Left with his Son Eli Sporting a hat I made in my Yarn Business Erin's Addiction
Dr. Bronner's has been family own and operated for 5 generations, that's over 100 years of quality soap making... Can you say impressive? Think of all this company has survived in 100 years... it's pretty much unheard of, and outstanding.
It probably is mostly do in part by the principles they have always aimed uphold in their corporation the bullet point guideline of which is:
Work hard and grow,
do right by customers
treat employees like family
be fair to suppliers
treat the earth like home
and give and give!
(See more on this on their guide and it's principles here: Dr. Bronner's All-One Report )
Here's a company, that believes in not only the well-being of the planet (the Earth itself) but also all of it's inhabitants..
Claims:
All Products are Vegan (Apart from their lip balms which contain ethically harvested beeswax)
Cruelty-free
Fair-trade
Ecological
Quality/ Safe ingredients (that you can pronounce!)
Organic
The First product I ever fell in love with of theirs was this bad boy right here:

Their Spray Lavender Scented Hand sanitizing spray, Here's a fact that is not widely known about me... I am a Germaphobe... I try to play it cool, but most the time inside I am screaming at some of the situations I find myself in as a mother of two young children.. so needless to say I keep this bad boy with me everywhere I go. I have one in my purse, one in my car, one by my bathroom sink, one on my bedside table.. I LOVE THIS STUFF. There is something about having hand sanitizer in spray form that is very comforting for me.. I don't know what exactly it is and of course the lavender scent is soothing.
After I fell in love with the hand sanitizer I definitely had to explore other products of theirs.. I am here to share my findings.
---
First I want to start out with what they're best known for:
Pure-Castile Soap
This Soap is everything, there are basically like 101 uses for this stuff, and you know me, I love multi-use products..
It is your one stop shop in soap form, seriously, especially if you're trying to be more zero waste, you can buy a jug of whatever scent of Castile soap you want and you can make your own.. EVERYTHING.
Add some coconut oil, some water, or baking soda and you can make a variety of different cleansers.. for example some of the recipes I found online you can make your own:
Laundry Soap
Foaming hand soap
Stain remover
Dish Soap
Dish Detergent *ETC ETC
Seriously this stuff is amazing, imagine one jug of this stuff that you can probably take to a whole foods, and refill.. think of how many less bottles and jugs and plastic containers you will have accumulated..
It's a Zero Waste liver's dream!
These soaps come in the following scents (created with Essential oils) :
Baby (Unscented)
Peppermint
Lavender
Almond
Green Tea (Gift Set Exclusive)
Rose
Citrus
Tea Tree
Eucalyptus
Cherry Blossom (Gift set exclusive)
I can attest that every scent is amazingggggg
Not only do the castile soaps come in liquid form but also bar form if that's more your speed, for just basic hand washing and/or showering..
One of my favorite things to do with Castile soap is wash my make-up brushes,right now I am using the unscented bar soap to lather my brushes and clean them of grime, it's a great vegan/ cruelty-free and gentle makeup-remover/cleaner for brushes..
SERIOUSLY THIS STUFF DOES EVERYTHING!
It's like the less exotic cousin of coconut oil or something.. LOL...
Mooooooviiiiiinnnnngg on:
---
Orange-Lavender Hand and Body Lotion
When I reached out to the company about wanting to do a feature on them, they asked me what other stuff I wanted to try.. I asked them what they recommended, and the gal I was corresponding with recommended a couple things one was their Hand and Body lotions and another was their hair cremes, so for good measure I asked for both.. Because my curiosity had peeked.
I ordered the lotion in their Orange-Lavender scent, I must admit this strange combinations of essential oils intrigued me.
Citrus oils generally are used to create happiness
Lavender oil is used for calm and relaxation
it only makes sense to combine the two!
Now although I admit I love the scent, I must also admit that the formula is a bit odd to me.. It doesn't feel like most lotions, it almsot feels like it's isopropyl alcohol based (it's not) but that's the effect it has, it's not creamy and doesn't soak in well, it rubs in and then it feels like it evaporates.. which isn't really what you're going for if you have dry cracked skin and want to feel moisturized and rejuvenated after a shower/shave..etc..
If I wanted to grab a lotion I would probably grab another one..
the aromatherapy aspect of it is amazing though, so I might apply this over an unscented lotion of another kind so I have the moisturizing properties I desire as well as the aromatherapeutic properties.
---
Lavender-Coconut Hair Creme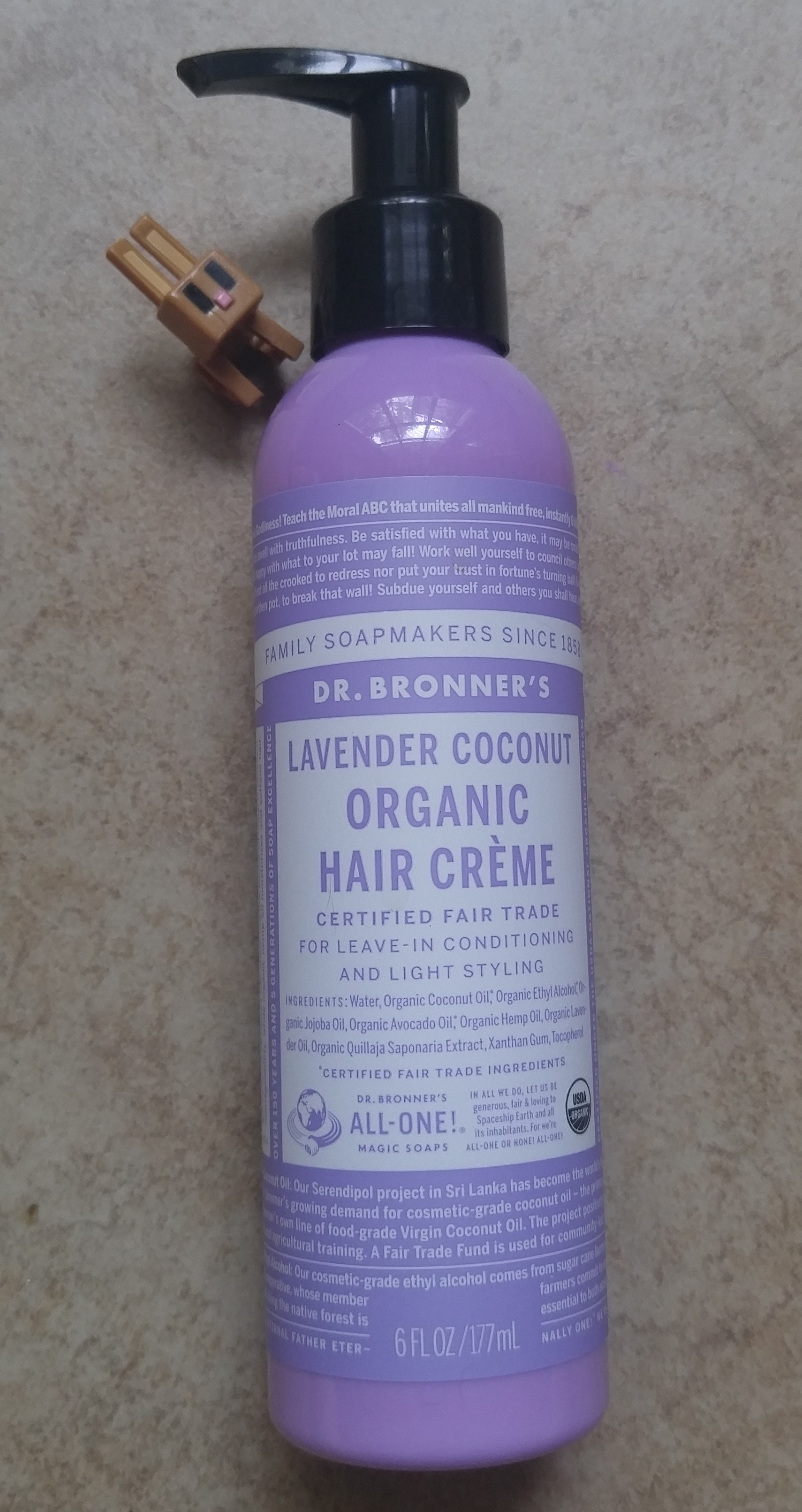 This stuff sort of claims to do what Pacifica's Hairvana does, it is supposed to condition and tame fly aways and not weigh your hair down.. etc.. it is the perfect partner for when you use the castile soap as shampoo, because the castile soap does leave a "stripped" and "dry" feeling in your hair (if you're not combining it with coconut oil) so this was a great product to combat that and to quench thirsty hair..
However we all know my hair.. and scalp..
that's right...grease madness the first time I tried this, I made the mistake of applying it through my hair from the root to the ends when I should have focused more on the dry ends and not been so generous with the pump...
once I got the hang of it though it does do wonders to tame and hydrate and isn't too heavy... you have to learn what your hair can tolerate and go from there..
All in all a pretty decent product:
---
Body Balm
This was one of the products Lisa gifted us new mother's in our little care package... along with the hand sanitizing spray, the baby mild castile soap and a lip balm..
Their balms are created to bring moisture to any part of you that is chapped or dry... Arms/ Elbows/ Knees.. and also claims to be great for applying to tattoos.. both new and old to keep them protected and bright...
But babies don't need to protect their tattoos so what did I use it for?
Cradle cap..
this stuff worked wonders on my son's crazy cradle cap... I would rub a little of this on his head and let it soak and then I would gently use a comb to comb it off his skin... it worked like a charm and kept my babe baby soft.
I have also used it as diaper rash balm.
---
Lip Balm
Ok...Like I said before the lip balm is not technically "vegan" as it contains beeswax.. I inquired briefly about the harvesting method and didn't get too much of an answer other than "the queens are not killed" which I don't know too much about the harvesting methods of beeswax so all I can assume is this means the method they use is more ethical than say some other company that does kill the queens?? (*Note to self research this)
Anyway, the formula is great and incredibly moisturizing plus the beeswax actually creates UV protection naturally with it's barrier properties.. I used my mint flavored lip balm every day when I went camping last month and didn't get chapped lips at all in the blazing sunlight.
SO thumbs up to that!
---
Toothpaste
When asked what I wanted to try, on the top of my list was their toothpaste which is one of the newer additions to the Dr. Bronner line.. I have been using another Cruelty-Free and Vegan Toothpaste by TOMS of Maine for awhile, but ever since I found out their parent company tests on animals I have been on the lookout for another one to replace it..
First things first, the texture is kinda cool and grainy, not really foamy, and the mint flavor is subtle and nice.. the only thing I find is that sometimes I get a weird after taste... I may just be sensitive and weird but I need to follow it with a natural mouth wash to get the taste out of my mouth.. I think they also have an anise and cinnamon flavor so I might try those and see if they are any better...
---
SO What have we learned?
This COMPANY IS RAD right? if you haven't tried their products and I have peaked your interest in them whether you're vegan, cruelty-free or looking to be more green or zero waste (or all of the above) you can browse all of their products on their website Or you can find them in most natural food stores.
What Products would you like to try? Comment Belows.
And don't forget to follow My Instagram
xoxo