If you have been following me on Instagram or twitter for any amount of time you know how I rave about Southern Comfort's Fragrance line. It's an indie fragrance line founded by the lovely Allison, and I have said several times that she is a scent genius.. which she is.. her fragrances have such a range, and each one is like a scent journey.. She will even customize a fragrance for you as well, you can name it and everything!!!
I already own several of her fragrance, lotions, bubble baths... you name it...
Then she has her friend Tiffany who makes AWESOME vegan and cruelty-free indie nail polishes for her company; "Comet Vomit"..
Put the two together and what do you get?? The start of an amazing Collaborative subscription service that really tickles my fancy and supports small indie cosmetic companies.. that are vegan and cruelty-free CHYA.
The two have teamed together to co-produce a subscription box called "Comet Comforts" (a nod to their individual businesses) where they team up with other indie cosmetic companies (all vegan and cruelty-free) and mail out boxes of goodies straight to your door step!! How awesome is that???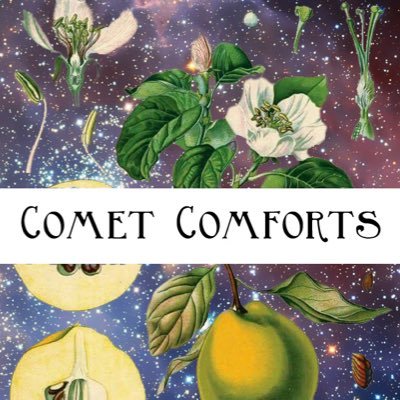 Each box is a theme... They did a mermaid themed box over the summer, complete with awesome mermaid polish shades and a custom limited edition fragrance titled "We only wanted to drown her" (a nod to the mermaids in Peter Pan for those who've been living under a rock since the 19th century) as well as some other trinkets as well..
And what's fun is that in at least one box each month there will be an extra surprise for some lucky subscriber(s)!
Who doesn't like surprises?? I know I do!
I got a taste of the goodies in their box when for Halloween they had a Rocky Horror themed box with a limited edition fragrance titled; "Sweet Transvetite" with a signature image of Tim Curry in his famous role of Frank N Furter, as well as a custom eye shadow shade from Notoriously Morbid Cosmetics called "There's a Light" Plus a ton of other goodies!
(PC: Leticia Costa; xoloveleti )
When The box had sold out, They had a couple leftover roller ball perfumes of the sweet transvetite and the shadow so I snagged a set during a sale and OH MY GOODNESS!.
The scent of Sweet Transvetite is Strong... but good.. it smells like coffee and chocolate.. and something flowery in the night.. I am not quite sure how to describe it.. they described it on their website as: " The notes are: black coffee, dark chocolate, night blooming jasmine, orange blossom, black musk, and tonka bean absolute."
A little goes a long way too! I put this on and it smells like i've been in a cozy coffee house all day reading old books and writing mystery-romance stories.. I don't even know but it smells great!
And look at this shadow from Notoriously morbid Cosmetics in "There's a Light"
It works great wet or dry... here it is dry swatched:

It's got a dark bubbliness to it... it's a lavender, pink, shimmer shade with underlying darkness.. sooo gorgeous...
here I am wearing it on my eyes:
SOOO PRETTY!!
The Last box they did was Mad Tea Party Themed.. So everything inside of it was Alice in Wonderland Themed.. I had been ogling it for some time only to have it mysteriously show up on my doorstep.. When I asked Allison if she sent me a free box she said a mysterious donor had mailed it to me, knowing of my financial predicament and the fact that I wanted the box...
SO THANK YOU MAKEUP FAIRY GODMOTHER!! (or FATHER) XOXO
Look at all these goodies I received!:
Some Fun Alice in Wonderland themed trinkets and tattoos, some rock candy, a polish from Comet Vomit Called "Shall We have tea First" which is a gorgeous pink/coppery/glittery shade: (Please excuse my terrible nails)
A Scented balm from Southern Comforts Called "it's always Tea Time"
Which has a nice musky and clean scent with a floral after thought.. very nice to wear on a sunny day or when you want to bring warmth to a cold day
I received this gorgeous highlighter in "Muchness" from The Amalgam Scent Company that works so well with my pale and (pink) undertones to really bring me a natural highlight and sheen!!
There was this roller ball perfume in the limited edition scent "7 impossible things before breakfast" that smells like all things sinfully sweet.. described as 'Raspberry White Chocolate Creme Cake" MMMMM
and even some loose leaf tea from an indie company called "the naked bean"
So much love and thought and collaboration went into making this box, I have nothing but admiration for this subscription service as you maybe can tell.
Does this sound like something you'd be into? Do you like Indie Cosmetic Companies? Do you like Cruelty-Free and Vegan Beauty Products? Do you like getting fun mail??
Head over to Comet Comforts To Jump on this band wagon right MEOW.
They are doing Nightmare before Christmas boxes right now and there are only a few left so RUN OVER AND GRAB ONE... Look at all the stuff inside!!!
So don't walk.. Run! and get in on the fun!
You won't regret it!!
Also Follow them on Instagram Here
til next time bunnies!
XOXO