If you know me, you know that I am a sucker for cute packaging, I am also a sucker for fun bright colors, great formulation, and products that are specifically Vegan and Cruelty-free..
Awhile ago I subscribed to A beauty subscription service Called "LIP LOVE" which featured three amazing cosmetic brands, So Susan, Trifle Cosmetics and Jelly Pong Pong...
Each month a cute canvas make up bag would come with about 5 fun little beauty treats inside...
At the time I was subscribed not many of their products were vegan although they were always 100% Cruelty-Free... When I became a Vegan however, I did not want to continue purchasing non-vegan beauty items, so sadly I discontinued my subscription
However, I never stopped loving their products...
I Still maintained my following of each of the brands and it was brought to my attention recently by their Social Network Manager Gemma, that they are moving the lines in a Vegan direction; slowly transitioning all the formulations to 100% Vegan... (the only thing not vegan about them before that I could gather was the fact they contained Ethically harvested Beeswax)... This news excited me so, That I reached out to Gemma to try some of their Vegan products... I just had to share them with the American Market.. (they are a U.K based brand).. She obliged and I got a shipment of goodies!!
And what's more?? One lucky follower will get to win one of everything I am reviewing for you... just follow me on Instagram to see the rules for entering... TBA.
Let's talk about the products by brand starting with So Susan Cosmetics
Lipopout in Parrots Rv; $18.95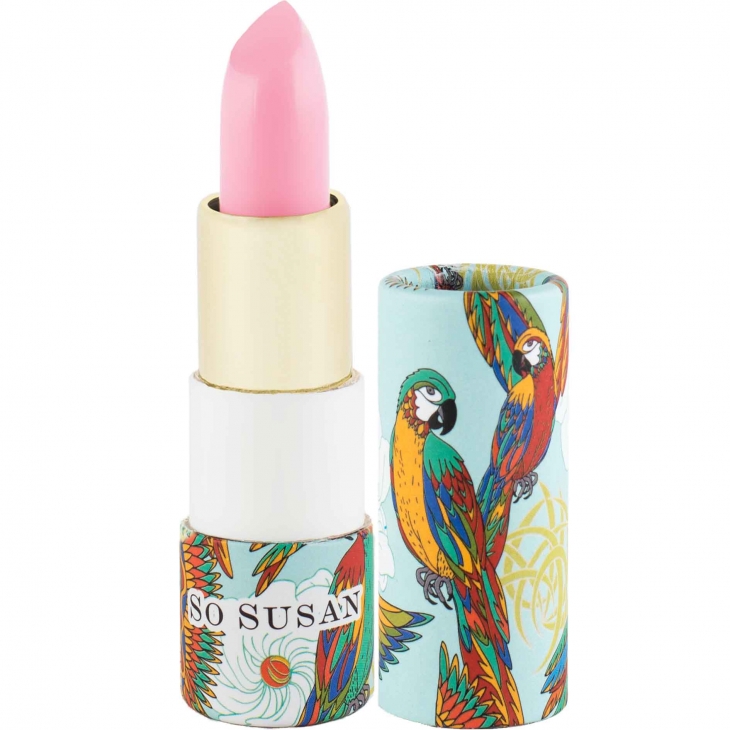 Claims: • Vegan • No Parabens • No Phthalates • No Mineral Oil • With Vitamin E • Hypoallergenic • Non-comedogenic
Such a pretty pale pink shade, which I feel works great for all seasons. The formula feels like a lip butter, it's super moisturizing, and surprisingly long lasting for a lipstick that has a satiny-gloss-like finish..
See for yourself:
Mesmer-Eyes Waterproof liquid Eye Liner; Rv: $22
What They Say: "A long-lasting waterproof liquid eyeliner that is here to stay. This formula is created to ensure that your makeup remains intact through rainy or hot summer days. Usage : Place your elbow on a steady surface and draw dashes along your eye lash. Apply more pressure if you wish to draw a thicker line."
Claims:
Vegan
93% Natural
Water-resistant
No Mineral Oil
No Parabens
No Phthalates
No Gluten
Hypoallergenic
Non-comedogenic"
What I Say: I love the sleek design, really easy to hold and use.. You want something sleek and controllable to get that perfect cat eye-look.. However, be weary, it does dry fast and when it dries it stays put which is a good thing... However, it could be frustrating to those who take longer to draw their line, because it may dry half-way through.. over all though it gets 2 thumbs up from me!
---
Now Products From Trifle Cosmetics:
Praline Eyeshadow Pallete; Rv: $21.95
What They Say: "A playful palette of 6 intense, multifunctional eye shadows that can be used wet or dry. The intense, vibrant shades range from a neutral bronze to wearable khaki and deep eggplant. Formulated with creamy, coated micronized pigments to reduce shadow fall-out, these unique powders are hot-pressed into their godets for a strong yet velvety smooth texture. Comes complete with a large mirror and double-ended sponge applicators."
Claims:
Vegan
No Mineral Oils
No Phthalates
No Parabens
Fragrance-Free
Hypoallergenic
Non-comedogenic
What I Say: The pigmentation of these shades is seriously out of this world.. just look what color pay off I got with just one swipe of each shade over an eye-primer:
These are the perfect fall time shades, or perfect for accomplishing that sultry smokey look, you can accomplish day and night looks with these colors and their duo-chrome tendency is really appealing especially if you like a little shimmer!! LOVE LOVE LOVE.
Here is a completed eye look I used with some shades of the Praline pallete coupled with the mesmer-eyes liner from So Susan
not bad huh??? and the packaging of course is simply adorable!!
---
Now Some goodies from Jelly Pong Pong
Liptensity Hydrating Lipgloss Rv; $19.95
Intensity:
Necessity:
What They Say: "A highly hydrating gloss, this thick formula enables you to have intense colours that shine and last at the same time. Infused with Sweet Almond Oil to help reduce chapped skin and keep lips succulently soft."
Claims:
Vegan
No Mineral Oil
No Parabens
No Phthalates
No Gluten
Hypoallergenic
Non-comedogenic
What I Say: I am in LOVE. I am not normally a gloss girl, but the formulation of these bad boys has me literally craving them! They smell like grape soda, they are not sticky, their pigmentation is OFF THE WALL and they are just simply gorgeous.. plus incredibly long lasting.. here are some hand and lip swatches of Intensity, a gorgeous red shade:
and Now of Necessity, a darling purple-magenta shade:
And Here I am wearing only Necessity and Mascara... LOOK AT THAT PIGMENT:
and last but not least:
Lip Butter in "Owls": Rv; $18.95
What They Say: "A gorgeous raspberry lip stain that relieves dry lips, moisturizes, provides antioxidant protection and offers full, shiny, long-lasting colour."
Claims:
Vegan
No Parabens
No Phthalates
No Mineral Oil
With Vitamin E
Hypoallergenic
Non-comedogenic
What I Say: Another amazing formulation that truly smells, feels and looks amazing. It has a sweet tart-like scent that's both subtle and nostalgic and it goes on like a balm.. What did my lips do to deserve to be so spoiled???
Here are some swatchy-poos:
So There You have it, a Full review of some amazing proucts from amazing companies.. that are going VEGAN and are Cruelty-Free.. So what are you waiting for?? Follow them on instagram, and keep your eyes peeled for the giveaway of all these beauties!!!
Until next time.
XOXO